OUTDOOR GARDEN FURNITURE COLLECTION WITH UNCONDITIONAL 10 YEARS WARRANTY
OUTDOOR WICKER HANDWOVEN FURNITURE
Select from a wide range of handwoven wicker outdoor furniture with Aluminum / Stainless Steel Frame designed to withstand harsh outdoor weather conditions
OUTDOOR BRAID & ROPE
FURNITURE
Introducing for the first time, all new range of Braid & Rope Handwoven Outdoor Furniture with wide variety of designs & colors.
OUTDOOR TEAK WOOD & METAL FURNITURE
Our Teak Wood furniture with Aluminium / Stainless Steel Frames are durable enough for any Outdoor conditions.
OUTDOOR COMMERCIAL
UMBRELLAS
Loom Crafts fabric structures are renowned
for setting architectural accents
in creating outdoor islands of ease and comfort.
ABOUT US
We are a garden furniture supplier and our business was established in 2005.
We are recognized throughout India for the quality and design of our outdoor furniture ranges. We have many inspiring ranges designed to make you feel at home in your garden with a substantial choice of traditional and contemporary furniture, all designed and produced to exacting standards.

STYLE YOUR OUTDOORS !
Whatever be the nature of the outdoors, commercial or residential, extensive or compact, Loom Crafts offers a solution that is customized to suit your sense and sensibility.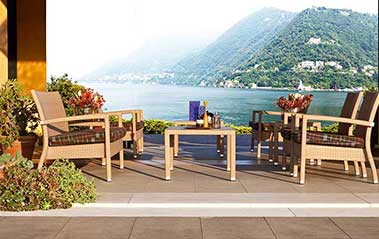 Outdoor Hotel Furniture
What to look for in hotel outdoor furniture Buyers usually face one major problem when dealing with hotel outdoor furniture: finding furniture that can bear harsh weather conditions.
Outdoor Fabrics & Cushions
Loom Crafts uses Agora Fabrics from Spain which are 100% Solution Dyed Acrylic Fabrics and comes with 5 Years warranty for any manufacturing defects.decorate with choice of bright colors.
Manufacturing
All Loom Crafts furniture are handmade by our 500+ skilled craftsmen in our manufacturing unit situated in Ghaziabad. We use highly precise CNC machines for the fabrication of our furniture frames: